Lymphatic Drainage
We offer several in-office options for Lymphatic Drainage. Pressotherapy is a form of detoxifying treatment popular in European Medi-Spas.
It effectively sculpts body tissue by reducing trapped lymph and water from within the tissue.
Through this very effective lymph, water and toxin drainage, we help restore the body's naturally occurring healing functions.
The revitalization and oxygenation of the tissue slims and redefines.
This treatment is especially good for enhancing skin tone, increasing circulation and cellular respiration.
Pressotherapy is safe, painless, and completely non-invasive. It can alleviate the pain, and swelling caused by lymphedema and provide immediate relief and comfort.

Pressotherapy is beneficial for the following: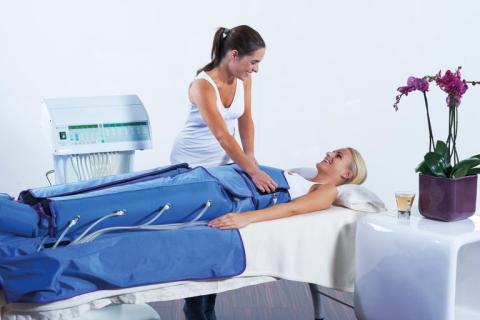 Stimulation of venous and lymphatic return blood flow.
Maintaining the normal return circulation.
Preventing the appearance of varicose veins.
Lymphedema and venous edemas.
Post-operative edema (post-mastectomy, etc.) and post-traumatic edema.
Cellulite Reduction.
Obesity.
Improving skin nutrition and recovering skin elasticity.
Postnatal care.
Prevention of thrombosis in bed-ridden patients.
After cosmetic surgery (essential following liposuction or liposculpture).
General body detoxification.
Pressotherapy is a computer controlled compression system, which utilizes precisely controlled inflating pumps. The device includes five separate chambers, which are designed to encapsulate the limbs with specially fitted sleeves. These pumps are designed to increase lymph flow, and blood circulation from the ankles to the upper thighs. Air-Pressure Massage enhances extra-cellular fluid clearance, reduces bloating, swelling and cellulite. It significantly decreases leg and arm fatigue and improves oxygen flow throughout the body.
How long does a Pressotherapy session take?
On average, a complete Pressotherapy session takes approximately 35 to 40 minutes. Based on previous experience with our clients, a bi-weekly routine is most beneficial. Every client receives their own re-usable garment (disposable) which we store for you for your future "presso" therapy sessions.
About Us 
We at Soft Touch Mastectomy, are excited to welcome all women to this unique environment, that was created out of our passion for improved health and overall wellbeing.
Hours of Operation 
Mon: Appointment only
Tue: 10am - 6pm
Wed: 10am - 6pm
Thu: 10am - 6pm
Fri: 10am - 1pm
Sat: Closed
Sun: Closed
Contact Us 
3077 Bathurst St., Suite #203, 2nd Floor, Toronto, Ontario, M6A 1Z9
(North East corner of Bathurst/Lawrence next to Shell Gas Station, upstairs from Walk-In Clinic)
Tel 416.782.5353 Fax 416.782.2672
info@softtouchmastectomy.com